Hotels in Trinidad
located in the province
Sancti Spíritus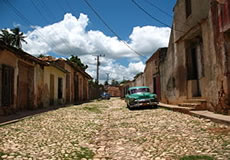 Trinidad, city frozen in time, offers to the visitors dissimilar charms of a city-museum located between the sea and the mountains. The city is located in the south-center of the island of Cuba, facing the Caribbean Sea and behind the mountain range Guamuahaya, major mountain system in the country. It covers an area of 1165 km2 and the main access is by roads and by air through an airport for domestic flights.

The city was declared in 1988 by UNESCO as a World Heritage Site. The third village founded by the Spanish crown in early 1514, called the Village of the Holy Trinity, shows to the visitors a wealth of traditions and cultures combining both the Hispanic and African traces

In Trinidad is predominant the culture of craftwork and ceramics, which has been transmitted from generation to generation significantly. This region is dominated by typical small towns, full of cultural and historical values, combined with natural attractions from the mountainous areas and nearby beaches.

Trinidad is a city that incites to walk on the streets made of paving stones, a city with many museums, squares and places with historic and tourist interest that allow you to go back in time.

Also, it is one of the best preserved colonial cities not only in Cuba but also in America, only possible by the work of preservation and restoration undertaken by specialists in this area, and by the collaboration and love that the residents in the city feel.
Others cities in the province of Sancti Spíritus
(4 Hotels)

Sancti Spíritus, capital city of the province with the same name, almost in the center of the island is located 348 km from Havana City. The most important city, Sancti Spíritus, was one of the first towns founded in the the sixteenth century.
(0 Hotels)
Hotels: -

Topes de Collantes belongs to the municipality of Trinidad and has an altitude of 766m above sea level. It is located 6 km to the west of the Hanabanilla reservoir and it is part of the mountains of Guamuhaya. In Topes de...