Hotels in Topes de Collantes
located in the province
Sancti Spíritus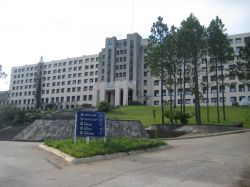 Topes de Collantes belongs to the municipality of Trinidad and has an altitude of 766m above sea level. It is located 6 km to the west of the Hanabanilla reservoir and it is part of the mountains of Guamuhaya.

In Topes de Collantes we can find the most complete health center of the Cuban archipelago, the sanatorium complex of the same name.

There are also facilities for the practice of ecotourism and interpretive trails. In Topes de Collantes there are also many endemic species of the flora and fauna, very particular species in the national territory.

On this site you can visit the Coffee Museum, where the process can be seen from planting to tasting coffee. In the museum are shown several tools for the preparation of grain varieties, as well as the recreation of a typical coffee grower environment.
Others cities in the province of Sancti Spíritus
(1 Hotel)

Trinidad, city frozen in time, offers to the visitors dissimilar charms of a city-museum located between the sea and the mountains. The city is located in the south-center of the island of Cuba, facing the Caribbean Sea and behind the mountain range...
(4 Hotels)

Sancti Spíritus, capital city of the province with the same name, almost in the center of the island is located 348 km from Havana City. The most important city, Sancti Spíritus, was one of the first towns founded in the the sixteenth century.