Hotels in Santa Lucía
located in the province
Camaguey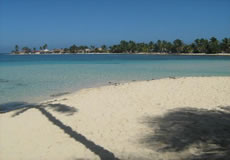 Santa Lucía, near Nuevitas Bay belongs to Camaguey province and the beach of the place is located about 550 km from Havana City, in the north coast of Cuba, specifically in the center-eastern part of the country.

Santa Lucía is a popular destination for diving lovers because its low cost and even for those who find a quiet place in the island to be lodged in. Habitat for flamingos and seagulls, the destination represents a natural paradise that gives all the charms of nature.

Its 21 km of beaches with fine white sands are covered by clear warm waters from the Atlantic Ocean, inviting those who visit the place to enjoy swimming, practicing water sports, taking a pleasant walk or going snorkeling.

Facing the coastal strip is located the largest coral reef in Cuba and probably the second largest in the world. You can dive into a fascinating world to only 200 m of the coast with 200 species of sponges, about 500 species of tropical fish, 50 species of corals and the remains of at least 27 sunken ships, some of them date back the period when the American gold was transferred to Spain and others ended up in the bottom of the sea during the second World War.

In Santa Lucia beach we can also find the combination of dissimilar attractions both natural and cultural, such as the presence of excellent beaches, places to practice water sports, places to dive and the proximity to Camagüey city, a city full of culture, history, and a peculiar splendor. Santa Lucía is near Cayo Sabinal, another jewel of nature located near the fertile mountains Sierra Cubitas, with amazing natural landscapes and shelters for species of the fauna and over 300 plant species, among others.
Others cities in the province of Camaguey
(6 Hotels)

Camaguey City, birthplace of great personages of the Cuban culture, is located in the middle of the province with the same name and 535 km far from Havana City. The city was founded in 1514 by the Spanish colonizers and has one of the most important historic centers, today declared as a city...