Hotels in the province Camaguey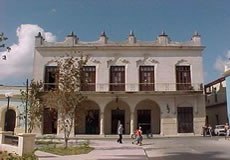 Camaguey province is located in the Eastern part of the country. The colonial architecture is prominent in the province, mainly in big colonial houses, roofs made of tiles, squares and churches. The capital of the province is known as The city of the large earthenware jars.

In the province, the majority of tourists prefer Santa Lucía Beach, where there are several hotels with beautiful beaches and a vast diving area.

Santa Lucia Beach is located in the north coast of the island and has 21 km of crystalline and calm beaches.
Localities and hotels of Camaguey
(7 Hotels)

Santa Lucía, near Nuevitas Bay belongs to Camaguey province and the beach of the place is located about 550 km from Havana City, in the north coast of Cuba, specifically in the center-eastern part of the country. Santa Lucía is a...
(13 Hotels)

Camaguey City, birthplace of great personages of the Cuban culture, is located in the middle of the province with the same name and 535 km far from Havana City. The city was founded in 1514 by the Spanish colonizers and has one of the most important historic centers, today declared as a city...