Hotels in Guantánamo
located in the province
Guantánamo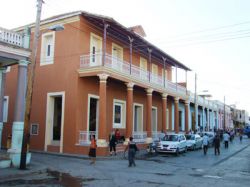 Guantánamo, main city of the province with the same name, is located in the south-western part of the province, in Guantánamo Valley, near the bank of Guaso river.

The layout of the city is reticular, with wide blocks and streets, a detail very unusual. The city is very far from the capital but there are ways connecting both cities as the main road of Cuba, by train or by plane.

Founded in 1849 by French fleeing from the slave rebellion in Haiti. In the city there are still many traces of the French architecture.

Only 30 km far from the city is located the port of Caimanera, in Guantanamo Bay, where the USA keeps still a naval base. The naval base has facilities covering 116 km2.
Hotels in Guantánamo
Rooms from

30.00 USD

...located in Guantánamo

Hotel Marti is located in Guantánamo, in front of the central square of the city. The hotel has been recently remodeled and reopened to tourism. It has a rooftop terrace with a bar and great views of the city. There is a restaurant that offers both traditional Cuban food and international...
more information...
* Prices based on double occupancy
Others cities in the province of Guantánamo
(8 Hotels)

Baracoa, municipality from the most eastern Cuban province, Guantanamo, it is also known as the Primatial City in Cuba. It was the first town founded by Diego Velazquez in 1512, wich turns the city into the most ancient town after the arrival of the Spanich...