Hotels in Baracoa
located in the province
Guantánamo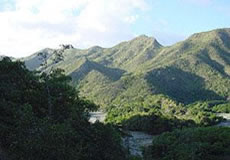 Baracoa, municipality from the most eastern Cuban province, Guantanamo, it is also known as the Primatial City in Cuba. It was the first town founded by Diego Velazquez in 1512, wich turns the city into the most ancient town after the arrival of the Spanich colonizer.

In Baracoa, the presence of the sea, the mountains covered by a dense foliage and many fluvial arteries converge and create a natural and attractive scene, all this linked with cultural and historic elements attract attention to the visitors. We will find there for sure one of the most attractive and well-preserved landscape in the Caribbean geography.

By land, the access to the city represents an adventure, because it is needed to use a very particular road called La Farola that winds the mountains. La Farola has its highest point 600m over the level of the sea (Los altos de Cotilla) and it has 11 hanging bridges.

Places of interest:
Baracoa´s Anvil
Hotels in Baracoa
Rooms from

0.00 USD

...located in Baracoa

The Hotel Hostal La Rusa, Baracoa, Cuba, is a cozy and intimate hotel built on the beach. The hotel receives the fresh sea breezes and offers a vast blue panorama through the windows. Baracoa offers to the visitors...
more information...
* Prices based on double occupancy
Others cities in the province of Guantánamo
(2 Hotels)

Guantánamo, main city of the province with the same name, is located in the south-western part of the province, in Guantánamo Valley, near the bank of Guaso river. The layout of the city is reticular, with wide blocks and streets, a detail very unusual. The city...