Hotels in the province Guantánamo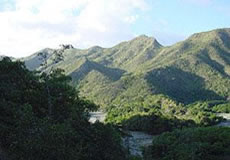 Guantánamo is the most eastern province in Cuba. Its main city, with the same name, is closely related with the bay, where is located the famous Naval Base of Guantánamo, territory from the United States of America, seized unfairly to Cuba. From the viewpoint of Malones all the visitors of the Bay can observe the Naval Base.

The most beautiful place of Guantánamo as a province is Baracoa City, about 3 hours by car through the viaduct La Farola.

In Baracoa you can visit forts built to protect the city against the pirates. From every part of the city the visitors can observe the famous "Yunque de Baracoa" or "Bella durmiente", some odd elevations in the shape of a woman on a bed.
Localities and hotels of Guantánamo
(8 Hotels)

Baracoa, municipality from the most eastern Cuban province, Guantanamo, it is also known as the Primatial City in Cuba. It was the first town founded by Diego Velazquez in 1512, wich turns the city into the most ancient town after the arrival of the Spanich...
(1 Hotel)

Guantánamo, main city of the province with the same name, is located in the south-western part of the province, in Guantánamo Valley, near the bank of Guaso river. The layout of the city is reticular, with wide blocks and streets, a detail very unusual. The city...