Hotels in Cayo Largo
located in the province
Isla de la Juventud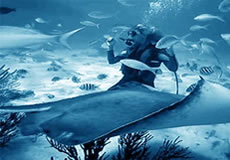 Cayo Largo is located in the eastern part of the archipelago of the Canarreos, in the Caribbean Sea, about 135km far from Nueva Gerona, the main city of Isla de la Juventud province and 177km far from Havana City.

Cayo Largo has a total surface of 37, 5 km² and 25 km of lenght, almost all the surface covered by beaches.

Cayo Largo, helped by nature, show an incomparable beauty in its environment,in its fabulous bottom of the sea, ideal to practice contemplative diving.

This island, a jewel in the Archipelago of the Canarreos with singular attractives, is considered one of the best places to practice nautical activities and contemplative diving because of the beautiful coralline formations in quite and less deep waters, a place where live species of the Cuban Flora and fauna.

Another site in the island to visit is, undoubtedly, the turtles, green kawamas and hawksbill turtles farm.
Others cities in the province of Isla de la Juventud
(0 Hotels)
Hotels: -

Isla de la Juventud, an special municipality located in the Gulf of Batabanó and in the northern part of the Caribbean Sea, in the western region of the island of Cuba. It is also the largest municipality of the archipelago and its capital is Nueva...