Hotels in Isla de la Juventud
located in the province
Isla de la Juventud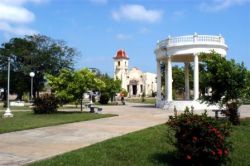 Isla de la Juventud, an special municipality located in the Gulf of Batabanó and in the northern part of the Caribbean Sea, in the western region of the island of Cuba. It is also the largest municipality of the archipelago and its capital is Nueva Gerona, picturesque town and river port on the bank of Casas river.

Its previous name was Isla de Pinos, because of the widespread presence of this type of vegetation and it was declared a special municipality in the last administrative and political division in 1976.

It is a very flat area, with elevations to the north and the center, in both cases with very different characteristics. To the south we can find caves with Aboriginal remains; to the southeast, in Punta del Este, we can also find pictographies, whose meaning and cultural scope are still discussed. In the municipality there are many interesting tourist sites: the emblematic Colony Hotel in the western coast, isolated beaches in the south and the international diving center of Punta Francés.
Others cities in the province of Isla de la Juventud
(6 Hotels)

Cayo Largo is located in the eastern part of the archipelago of the Canarreos, in the Caribbean Sea, about 135km far from Nueva Gerona, the main city of Isla de la Juventud province and 177km far from Havana City. Cayo...