Hotels in San Antonio de los Baños
located in the province
Artemisa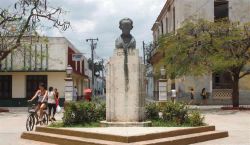 San Antonio de los Baños is a town and municipality in the southwest of Havana City (Cuba), currently located in the province of Artemisa, and historically the second largest city from the ancient province of Habana. The town was founded in 1794 by immigrants from the canary Islands on the banks of Ariguanabo River.

San Antonio de los Baños is known as the the Capital of Humor. This honor is because the city is the venue of the International Festival of Humor since 1979. In this city we can find the first museum in Cuba devoted to Humor, unique place in Latin America. The museum amasses the first cartoons that were released on the island in 1848 and works from thousands of authors from different countries.

On the outskirts of this city of about 34,000 inhabitants is located the International School of Cinema and Television created in 1986 under the sponsorship of the Foundation of New Latin American Cinema. This school is highly remarkable in the continent.

It is also the city where Silvio Rodriguez was born, founder of the new Cuban trova and internationally renowned singer-songwriter.
Hotels in San Antonio de los Baños
Rooms from

26.00 USD

...located in San Antonio de los Baños

Hotel Las Yagrumas, Havana, Cuba, sheltered by the waters of the Ariguanabo river, the hotel is located just 22 kilometers from Havana, in the midst of rich forest vegetation. The environment invites an excellent place to enjoy the wonders of nature in Cuba: abundant specifics of local flora and...
more information...
* Prices based on double occupancy
Others cities in the province of Artemisa
(2 Hotels)

Soroa is an extraordinary tourist area located about 70 km west of Havana City, in the municipality of Candelaria, Artemisa province. The area formerly belonged to Pinar del Rio province. Forming part of the Sierra del...