Hotels in Soroa
located in the province
Artemisa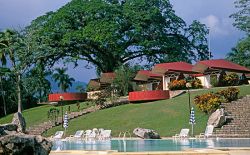 Soroa is an extraordinary tourist area located about 70 km west of Havana City, in the municipality of Candelaria, Artemisa province. The area formerly belonged to Pinar del Rio province. Forming part of the Sierra del Rosario, Soroa has a rich flora with a variety of species of trees, ferns and over 700 species of orchids, many of them considered rare. Ecotourism has here another small paradise for nature lovers and for your enjoyment there are several trails.

Next to the area is located the Salto de Soroa (200m height) where the water falls to a height of 30 m. In this place is combined the exuberant nature where the main elements of vegetation, birds and crystal clear colors resemble natural pool.
Hotels in Soroa
Rooms from

0.00 USD

...located in Soroa

The Hotel Soroa is often called "The Rainbow of Cuba". The visitors can tour the river "Manantiales", which flows through the hills, and also watch the wonderful waterfall and even go swimming. The river contains minerals and medicinal...
more information...
* Prices based on double occupancy
Others cities in the province of Artemisa
(1 Hotel)

San Antonio de los Baños is a town and municipality in the southwest of Havana City (Cuba), currently located in the province of Artemisa, and historically the second largest city from the ancient province of Habana. The town was founded in 1794 by immigrants from the...