Hotels in Segundo Frente
located in the province
Santiago de Cuba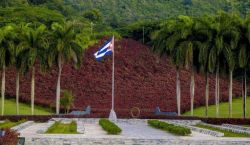 Segundo Frente is one of the municipalities that make up the province of Santiago de Cuba. The municipality was created after the territorial organization of 1976.

Its head is the town of Mayarí Arriba. Its name refers to the Second Eastern Front «Frank País», a combat front created within the framework of the Cuban revolution.

The main economic activity of the municipality is agriculture, mainly the production of coffee, vegetables, citrus and other fruit trees.
Hotels in Segundo Frente
Rooms from

37.00 USD

...located in Segundo Frente
The Hotel E Segundo Frente is located in a natural environment in the Sierra Cristal mountain group, in the foothills of the Mícara mountain, in the Segundo Frente municipality, in the province of Santiago de Cuba. Next to the monument that treasures the...
more information...
* Prices based on double occupancy
Others cities in the province of Santiago de Cuba
(24 Hotels)

Santiago de Cuba, is the second largest city of the island of Cuba, considered one of the first towns founded in the year 1515, is one of the most attractive and lively cities in the country. Located to the east of the island, Santiago de Cuba was the capital of the former...