Hotels in the province Santiago de Cuba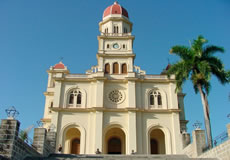 Santiago de Cuba is a very diverse region located in the mountainous area of La Sierra Maestra, so the streets and houses are slightly inclined.

The population of the province is full of people with African, Spanish and French ancestors. Santiago de Cuba is bounded by Granma to the west, Holguin to the north and to the east and south with Guantánamo and the Caribbean Sea.

Most of the beaches in the area are spectacular, with dark sand and La Sierra Maestra as a backdrop. Santiago de Cuba is a destination that combines many values and attractions, allowing visitors to engage with its people, culture and history of the province while they enjoy its exotic beaches and the wonders of the city.
Localities and hotels of Santiago de Cuba
(24 Hotels)

Santiago de Cuba, is the second largest city of the island of Cuba, considered one of the first towns founded in the year 1515, is one of the most attractive and lively cities in the country. Located to the east of the island, Santiago de Cuba was the capital of the former...
(1 Hotel)

Segundo Frente is one of the municipalities that make up the province of Santiago de Cuba. The municipality was created after the territorial organization of 1976. Its head is the town of Mayarí Arriba. Its name refers to the Second Eastern Front...