Hotels in Playa Covarrubias
located in the province
Las Tunas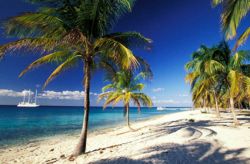 Playa Covarrubias is located on the north coast of the island of Cuba, to the east of the entrance to Malagueta Bay, in the municipality of Manati in Las Tunas province.

The beach is valuable for the existence of a beautiful beach, with presence of bars of fine white sand and clear waters, apart of a coral reef that protects the coastal sector.
Hotels in Playa Covarrubias
Rooms from

38.00 USD

...located in Playa Covarrubias

The 4-star Brisas Covarrubias Hotel is a cozy and intimate beachfront complex located on a long, secluded beach of the same name, on the north coast of the Las Tunas province in Cuba. The soft and powdery sand combined with shades of turquoise and blue waters of the Atlantic Ocean and surrounded by...
more information...
* Prices based on double occupancy
Others cities in the province of Las Tunas
(2 Hotels)

Las Tunas is a Cuban city located in the center of the most western part of the eastern region of Cuba. It is the capital of the province of the same name. The city is also known as "Capital of Cuban sculpture" or "Balcony of Eastern Cuba"....