Hotels in Península de Zapata
located in the province
Matanzas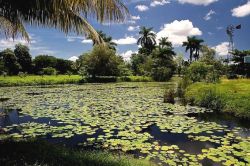 Península de Zapata is located in the southern part of Cuba, in Matanzas province, with a surface of 375 km2. The area is a marshy plain covered by mangroves and marsh grasslands towards the coast.

Península de Zapata is one of the most extensive swamps in the Caribbean Sea and the shelter for species of the flora and fauna with a great variety of birds (up to 160 species), 12 species of mammals, amphibious and reptiles.

In the area is placed one of the most important crocodile farms in the country and the Caribbean, with more than 15 thousand specimens.

Another attraction in Península de Zapata is La Laguna del Tesoro, a water mirror with more than 900ha and 4m deep. In this freshwater reservoir lives the golden trout, a coveted specie by the fishing lovers.
Others cities in the province of Matanzas
(8 Hotels)

Varadero is a tourist city located in the Peninsula of Hicacos, only 130 km far from Havana City. In Varadero we can find more than 20 km of a very fine and white sand and the tourist area covers all the narrow peninsula (between 700 and 1200m...
(1 Hotel)

Matanzas City is located on the north coast of Cuba near Matanzas Bay at the mouth of the rivers San Juan, Yumurí and Canimar, which divide the city into three sections, that´s why the city is known as the "city of bridges", becasuse of...