Hotels in Cienfuegos
located in the province
Cienfuegos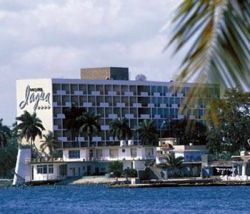 The city of Cienfuegos is the geographic and administrative center of the province with the same name; located only 260 km far from Havana City.

Cienfuegos is nowadays an industrialized city founded in 1811 by French colonists. The French people founded the city in a spit of land near the Bay of Jagua or of Cienfuegos, under the name of Fernandina de Jagua.

The city, also known as The Pearl of the South, because of the beauty of its architecture, its streets and boulevards full of life and its French heritage in everything are convincing reasons for travelers to go to the most important city in the south of the island.

The Bay of Cienfuegos, in the shape of a shell, is a very sheltered and safe place with a very significant business traffic, which become this place in the second port in significance in Cuba.
Hotels in Cienfuegos
Rooms from

27.00 USD

...located in Cienfuegos
The Hotel Yaguanabo, Cienfuegos, Cuba is located on a road between Cienfuegos city and Trinidad. The hotel has small and comfortable rooms protected by a lush tropical vegetation. Recreational and cultural...
more information...
Rooms from

34.00 USD

...located in Cienfuegos

The Hotel Pasacaballo, Cienfuegos, Cuba. Located at the entrance of the Bay of Cienfuegos, this hotel offers beautiful views from its rooms. From this hotel you can visit the Sierra del Escambray, the most...
more information...
* Prices based on double occupancy