Hotels in the province Cienfuegos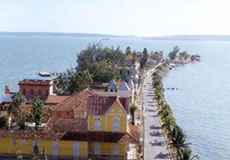 Cienfuegos is the smallest province in the country and has a bit of everything. It has a flat relief with some mountains in the Sierra del Escambray, shared with other provinces.

Cienfuegos, the capital city is a beautiful city where many tourists love to come back every year, either for its beautiful beaches, its French architecture, diving or ecotourism.

The coast of Cienfuegos has ideal places for diving, with coral reefs where you can admire the sponges and gorgonians and also sail on yachts, sailboats and catamarans.
Localities and hotels of Cienfuegos
(9 Hotels)

The city of Cienfuegos is the geographic and administrative center of the province with the same name; located only 260 km far from Havana City. Cienfuegos is nowadays an industrialized city founded in 1811 by French colonists. The French...