Superclubs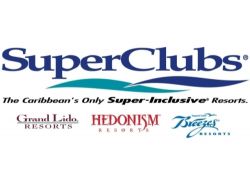 SuperClubs, proud of its work and favorite of many people in the world of Super-Inclusive Hotels.

It is a collection of top facilities where everything is included and everything is possible.

In the Super-Inclusive modality there are no hidden charges. Virtually everything you eat and drink is included in the only price.

You can find skiing and tennis included in the payment, and also live music and entertainment, Premium brand drinks and delicious food, even your transportation to and from the facility, and the best part: tips are not allowed.

That is the difference of the Super-Inclusive hotels.
Hotels of the chain "Superclubs"
Rooms from

64.00 USD

...located in Varadero

The Hotel Iberostar Bella Costa, Varadero, Cuba. This hotel was built on a natural cliff in the Hicacos Peninsula. The hotel is a comfortable property surrounded by an intimate atmosphere and marked by an architectural style in...
more information...
Rooms from

0.00 USD

...located in Varadero

Hotel Breezes Varadero, Cuba. It is a Super Clubs Resort for adults, singles and couples over 16 years old. This exclusive resort is located in tropical gardens with more than 26 hectares and offers a private and intimate atmosphere, while offering...
more information...
* Prices based on double occupancy