ROC Hotels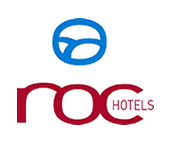 ROC Hotels is a family hotel chain founded in 1998 in Palma de Mallorca, Spain. Currently it is immersed in a moment of strong expansion in different tourist destinations of first level throughout the world.

The product of the hotel chain ROC is a holiday offer in the best places of Spain, it is a competitive offer, always in tourist areas of first order like Mallorca, Menorca, Almería, Costa del Sol, etc. They have also begun to expand to other regions of the Caribbean, especially to Varadero and Havana, in the tourist destination of Cuba.

As a brand they implement in each one of their establishments an own standard of tourist quality and effective systems of hotel management oriented to the satisfaction of all the clients.
Hotels of the chain "ROC Hotels"
Rooms from

60.00 USD

...located in Varadero

The Hotel Barlovento, Varadero, Cuba. It enjoys a privileged location, right at the main entrance to Varadero and close to all leisure facilities, shops and Cuban typical restaurants. Located in the northern part of the island of Cuba,...
more information...
Rooms from

64.00 USD

...located in Varadero

Hotel Arenas Doradas, Varadero, Cuba. The hotel is located flanking the golden sands of Varadero beach. This resort is built around a tropical outdoor pool with bar, children's pool and outdoor jacuzzi. The hotel is in the form of eleven, a two-story building with...
more information...
* Prices based on double occupancy