Kempinski Hotels S.A.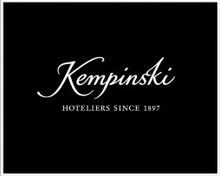 Kempinski Hotels S.A. is a hotel group. The group now has its headquarters in Geneva, but was founded in Berlin in 1897 as the 'Hotelbetriebs-Aktiengesellschaft'.

Kempinski Hotels currently operates 75 five-star hotels and residences in 30 countries. Starting in Germany, Kempinski has expanded its hotel portfolio to other parts of Europe, the Middle East, Africa, Asia and Latin America.

The branches are located in places like Abu Dhabi, Berlin, Istanbul, the Dead Sea, Beijing, Moscow, St Moritz, Bangkok and Havana.

The Kempinski name is proudly carried by a growing collection of distinguished properties around the world. As the oldest group of luxury hotels in Europe, we are committed to offering our guests memorable trips inspired by exquisite European style. We believe that life should be lived in style.

At Kempinski, everyone is personally responsible for creating rich and meaningful experiences for our guests.
Hotels of the chain "Kempinski Hotels S.A."
Rooms from

156.00 USD

...located in Old Havana

The inauguration of the Gran Hotel Manzana Kempinski Hotel in Havana represents the rebirth, not only of a historic building from the 20th century, but of the concept of a luxury hotel in Cuba. Located in Old Havana, declared a World Heritage Site by UNESCO, the hotel is surrounded...
more information...
* Prices based on double occupancy