Kempinski Hotels S.A.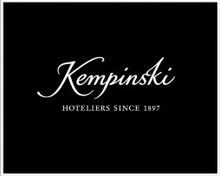 Kempinski Hotels S.A. es un grupo hotelero. El grupo ahora tiene su sede central en Ginebra, pero fue fundado en Berlín en 1897 como el 'Hotelbetriebs-Aktiengesellschaft'.

Kempinski Hotels opera actualmente 75 hoteles y residencias de cinco estrellas en 30 países. Comenzando en Alemania, Kempinski ha extendido su cartera de hoteles a otras partes de Europa, Oriente Medio, África, Asia y América Latina.

Las sucursales se encuentran en lugares como Abu Dhabi, Berlín, Estambul, el Mar Muerto, Beijing, Moscú, St Moritz, Bangkok y La Habana.

El nombre de Kempinski es llevado con orgullo por una colección creciente de propiedades distinguidas en todo el mundo. Como grupo de hoteles de lujo más antiguo de Europa, estamos comprometidos a ofrecer a nuestros huéspedes viajes memorables inspirados en un exquisito estilo europeo. Creemos que la vida debe ser vivida con estilo.

En Kempinski, cada uno es personalmente responsable de crear experiencias ricas y significativas para nuestros huéspedes.
Hotels of the chain "Kempinski Hotels S.A."
Rooms from

156.00 USD

...located in Old Havana

La inauguración del Gran Hotel Manzana Kempinski en La Habana representa el renacimiento, no sólo de un edificio histórico del siglo XX, sino del concepto de un hotel de lujo en Cuba. Ubicado en la Habana Vieja, declarado Patrimonio de...
more information...
* Prices based on double occupancy