Hoteles NH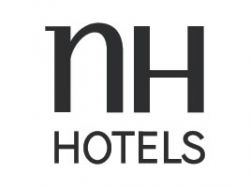 NH Hoteles(Navarra Hoteles) is one of the largest Spanish hotel chains and the third in Europe in the category of business hotels.

Founded by Antonio Catalán, NH currently has 392 hotels with more than 58,000 rooms in 24 countries in Europe, America and Africa. It has a staff of 22,000 employees.

The acronym NH comes from "Navarra Hotels", since the founder was from Navarra and created in this community its first hotel, the City of Pamplona, ??in the Navarran capital Pamplona, ??from which the group began its expansion during the eighties.

From the year 2000 it became one of the main European chains with the purchase of the Dutch Krasnapolsky (July 2000), the German Astron (February 2002) and the Italian Jolly Hotels (2007). It also acquired the Mexican Krystal (June 2001). Currently, the majority shareholder of the company with more than 25% of the shares is Hesperia Hotels.

NH Hoteles is listed on the Madrid Stock Exchange and has been included in the selective Ibex 35.

The group signed an agreement with the prestigious chef Ferran Adrià in 2000, for which he has promoted his restaurant service. Its motto is "A matter of detail".

On September 14, 2009, it merged with the Hesperia Hotels chain, creating the largest Spanish urban hotel group, with 400 establishments distributed in 24 countries.

Hotels of the chain "Hoteles NH"
Rooms from

71.00 USD

...located in Vedado

NH Collection Victoria Hotel. Built in 1928, the facility was initially known as the Hotel Vedado. It has 31 rooms, including 28 doubles and 3 junior suites. This elegant and small class hotel is accessible and close to all the Havana nightlife. The NH Collection Victoria Hotel has...
more information...
Rooms from

66.00 USD

...located in Vedado

The famous Hotel Capri in Havana has just reopened its doors and will be operated by the NH Hotels chain. The Capri Hotel in Havana, Cuba is famous for its reference in the novel "The Godfather by Mario Puzo. It is located on a corner near 23rd Street, one block from the...
more information...
* Prices based on double occupancy