H10 Hotels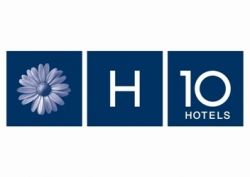 H10 Hotels is a family owned business group with more than 25 years in the tourist sector. Josep Espelt, founder and president of the company, started his career in the late 60's in the area of the Costa Daurada. In the 80s the company expanded to the Canary Islands and from there it developed to other tourist destinations like the Costa del Sol and Mallorca and later in Riviera Maya and Punta Cana.

In 2001, H10 Hotels opened its first urban hotel in Barcelona and currently has hotels in other major cities such as Madrid, Rome, London, Berlin and Havana. In November 2012, H10 Hotels opened a new upscale establishment in Cuba: a resort in the area of Varadero. Soon, H10 will open two new hotels in Barcelona city (summer 2013) and Lisbon (2014).

In 2009 the European touropeador Thomas Cook, based on customer reviews, gave the "Mark of Excellence" award four of its establishments in the Costa Daurada. Two of them, thanks to its high quality standards, have received the award consecutively for the second and third years.

H10 Hotels: 41 hotels (29 holiday hotels and 12 urban hotels) in 16 locations and 7 countries. It has more than 11,000 rooms. It has about 4,500 employees. It has 4 star hotels (75.1%), 5 stars (17.5%) and 3 stars (7.4%).
Hotels of the chain "H10 Hotels"
Rooms from

78.00 USD

...located in Municipio Playa

The Hotel H10 Panorama is located in an area of embassies in Havana, near the beach, the Miramar Trade Center and many shopping malls. It is also located 18 km from the José Martí International Airport and 7 km from Old Havana. This...
more information...
* Prices based on double occupancy