BLAU Hotels & Resorts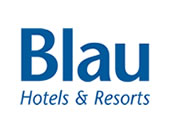 All BLAU Hotels enjoy privileged location in areas of outstanding natural beauty. Located throughout the world, enjoy an unforgettable vacation surrounded by exquisite views.

In Blau Hotels & Resorts they are committed to provide a service of exceptional quality. The team of professionals is at your disposal to make your holiday a success along with a unforgettable experience.

In Blau Hotels are offered numerous cultural and sports activities to ensure entertainment and fun during your vacation. Blau Hotels & Resorts is the ideal place for a family holiday with or without children choice.

For a holiday with children they have (in some hotels) Blaudiland, a whole world of different activities.