BLAU Hotels & Resorts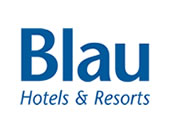 All BLAU hotels enjoy a privileged location in areas of extraordinary natural beauty. Located all over the world, from the caves and coves of Mallorca to the fine sands of the Caribbean and the lush tropical gardens of the Dominican Republic, enjoy an unforgettable vacation surrounded by exquisite views.

At Blau Hotels & Resorts we are committed to providing exceptional quality service. Our team of professionals is at your disposal to make your vacation a success as well as an unforgettable experience.

At Blau we offer numerous cultural and sports activities to ensure your entertainment and fun during your holidays. Blau Hotels & Resorts is the ideal option for a family vacation with or without children. For a holiday with children we have (in some hotels) Blaudiland, a whole world of different activities.

Hotels of the chain "BLAU Hotels & Resorts"
Rooms from

81.00 USD

...located in Varadero

Blau Varadero Hotel, Cuba. It is destined to be the highest and most majestic in Varadero. Emerging from the sand, the sun and the warm waters of the Caribbean, whose elegant rooms offer views of the sea and the sky. The excellent service, elegant structure and the privileged location in an unspoilt area of sand and flora, meet...
more information...
* Prices based on double occupancy