RIU Hotels & Resorts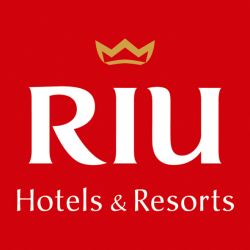 RIU Hotels & Resorts is an international company with its head offices in Palma de Mallorca and founded by the Riu family in 1953. 50% of the company belongs to the German tourist group TUI. It has more than 100 hotels in major tourist destinations like Europe and America.

The company was founded in 1953 with a small hotel in Palma de Mallorca, and at present more than 100 hotels. After its expansion in the Canaries, Riu Hotels began in the 90s its internationalization as a hotel chain with the opening of "Riu Taino" in Punta Cana.

From this island, whose beaches are among the finest in the world, the chain has expanded to Florida, Mexico, Tunisia, Bulgaria, Jamaica, Cuba, Aruba, Cabo Verde, Bahamas, Canary Islands, Andalusia, Portugal, Costa Rica, Panama, Spain, USA, Morocco and Turkey.

Riu Hotels & Resorts is the 27th largest hotel chain in the world by number of rooms (2010), a major hotel chain operating in the Caribbean and the third largest in Spain by revenue and fourth by number of rooms (as Ranking Hosteltur 2010).
Hotels of the chain "RIU Hotels & Resorts"
Rooms from

0.00 USD

...located in Varadero

The Hotel Riu Varadero is a property opened in November 2010 and it is located at the entrance to Punta Hicacos and among the largest hotels in the beautiful Peninsula of Varadero. It consists of the main building with the most common services and facilities and some three-story...
more information...
* Prices based on double occupancy