Eurostars Hotels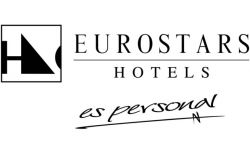 Eurostars Hotels is an Spanish Hotel Chain that belongs to the Tourism Group Hotusa, with a large presence in 13 tourist destinations in Europe and America with more than 74 hotels.

All the establishments of Eurostars have the privilege of being located in the historic center of many important cities or in the area around their financial districts. The guests of the hotels of Eurostars are attracted mainly by culture and business.

Walking by any of the establishments of the company means to discover a universe of spaces with meticulous interior design and pampered decoration, where modernism and tradition merge to release warm and cozy establishments. Within them, the guests can feel the comfort of their own homes, without giving up to the advantages and comfort of the most modern hotels and the high technology installed.
Hotels of the chain "Eurostars Hotels"
Rooms from

71.00 USD

...located in Cayo Santa María

Staying in heaven is now possible. The Hotel Eurostars Cayo Santa María opens its doors; a five star and all inclusive hotel with excellent rooms with a villa style and all the luxuries of a truly magical hotel. The resort has two pool areas, six differentiated restaurants by their different gastronomic...
more information...
* Prices based on double occupancy